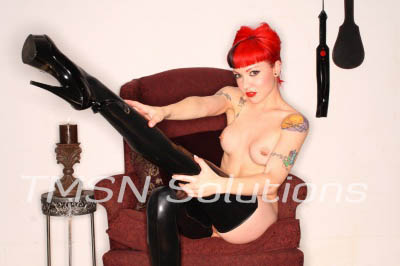 844-332-2639 ext. 205
These boots where made for walking, specifically, walking the fuck over you. I want you to lay down, on the ground, and press them into you. Feel your skin yield, your muscles soften, feel you yield, whimper. Feel the breath gasp out of you when I stand on your chest.
I want to use just the heel of my stiletto. And gently grind it into your nuts, not enough to cause lasting damage, but I want to luxuriate in the pain. I want to see you weep, pet.
I want to hear you cry.
And thank me. Thank my boots. Love my boots, worship them. Lick them.
Then if you're lucky, oh so lucky.
I will flip you over on your belly.
And force my heel in to peg your dirty ass, bitch.
Austra
844-332-2639 ext. 205