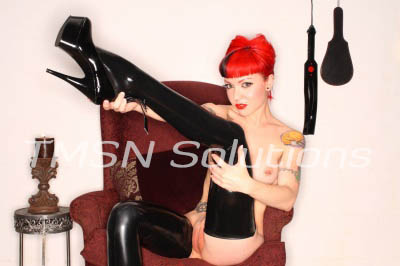 844-332-2639 ext. 205
So I get some of you losers that send me emails that say, "Dear Goddess, I really want you to humiliate me but I don't really believe that I'm a loser, because I'm attractive and I have a big dick." And I just want you to know that first of all: I don't fucking care what you've deluded yourself into believing, and secondly, Yes, you are a fucking loser.
You want me to humiliate you, you want me to face-fuck with my She's heel while I call you an idiot. You want me to take all of your money and treat you like a wallet while I make you crawl around on the floor oinking like the stupid little piglet that you are. It doesn't fucking matter that you have an 8 inch dick. Do you think someone like me cares about the dick of someone like you?  I don't fucking care about you at all you subhman cumdrip. If you want to be treated like dirt and have me completely degrade you and destroy your ego then you're a fucking loser!
You come to me to be humiliated, to be utterly emasculated, but you finish of your email with, 'but I'm handsome and successful'. I don't fucking care, you little bitch! You're are not and will never be a real man An alpha male wouldn't come to me to suck on my heel while I slap him in the face and tell him to keep sucking like a good little cocksucker. You're a fucking idiot! You're barely even a real human being. You're something I will use and give you the fucking privilege of experiencing that! Why on earth do you think it matters that you're good looking? The minute you come to me seeking my attention, my services, I'm not going to be attracted to you at all. I'm not attracted to loser men who want to be humiliated by me. I don't care what you look like or how big your dick is!
Austra
844-332-2639 ext. 205